uni

TFTDesigner - Designsoftware
The Windows design software uniTFTDesigner (WYSIWYG) makes it easy to create complete screen layouts. With the help of the macro editor, functional sequences can be defined. The properties of all objects (position, size, angle) are easily adjustable.

The touch functionality is also supported by uniTFTDesigner, so you can create radio groups, sliders, bar-graphs and simple touch-buttons. Touching a button may switch to a new screen or start a macro.

An integrated simulator shows immediately the real screen including functionality. Also the digital and analogue inputs and outputs will be simulated.

A comprehensive debug-function and the integrated help function round off this package.




| | |
| --- | --- |
| To get an overview of the tool and the uniTFTfamily you will find a lot of short explanatory videos in our uniTFTacademy. | |
| The uniTFTDesigner offers a lot of possibilities to easily implement tasks that seem difficult. Like for example individual meters, line recorders or screen transitions from one screen to the next. | |



The surface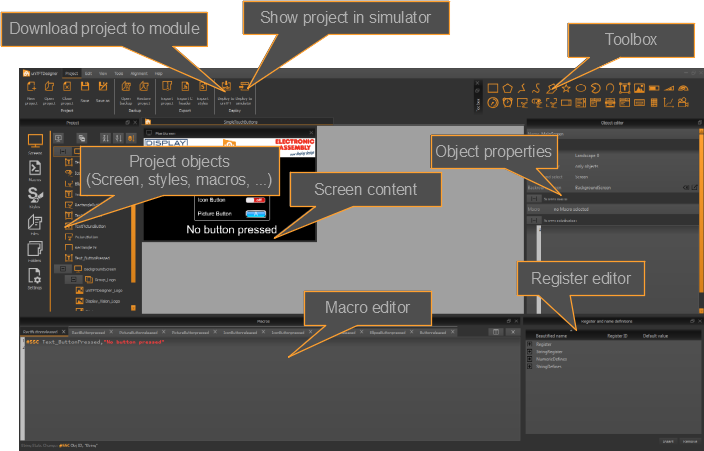 Help engine and explanations
The menu item "Help" shows information about the version status (about dialogue), as well as this help file (or press "F1").
In the Macro Editor, you can access the specific help for the respective command by pressing the key combination F1.
A large selection of example projects can be found on the home/welcome-screen.
Processing order: Macros, screen
The processing of macros and screens follows the following chart: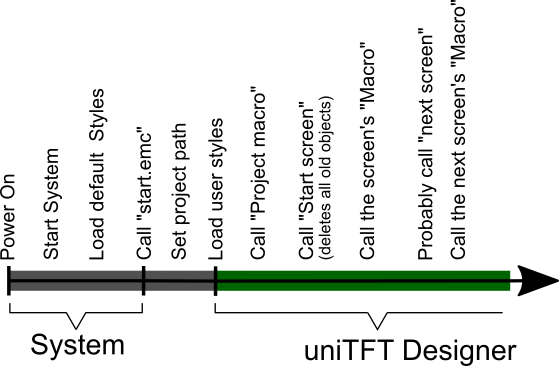 Note: uniTFTDesigner always deletes all definitions and objects (#ODI 0) and starts a new screen afterwards - except this is disabled by "Delete behaviour" in the screen properties or limited to delete objects only.