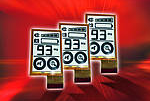 Customized ePaper displays
ELECTRONIC ASSEMBLY's ePaper displays provide customized displays for industry application in the medical engineering, aviation and automotive electronics industries as well as the "Internet of Things." Supplied up to a maximum size of 300x300mm (LxW), the design of the black/white segments is based on the customer's own specifications (i.e. simple sketches or technical drawings).
The high-contrast displays, which are extremely easy to read even in sunlight and without additional lighting, are supplied with I2C controller included. These are available for 36, 90 and 120 segments. The ePaper display functions without power, i.e. the segments remain permanently visible even without any operating voltage. Energy is only required to change over the segments. This makes the displays ideal for battery operation, for wireless loading and for harvesting energy. The electric interface is I2C and the power supply 3.3 V. The cable connection is likewise designed to customer specifications. These cutting-edge displays are also available in flexible form. ELECTRONIC ASSEMBLY supplies its ePaper displays within 60 days in minimum order quantities of approx. 1,000 pcs. ePaper is based on Joseph Jacobson's technology, which has been in use since 1990 and involves white and black particles suspended in a transparent viscous polymer which in turn are embedded in microcapsules of different sizes. The microcapsules are aligned by briefly applying an electric field that can then be turned off. Due to the viscosity of the polymer, ePaper is able to store its content for many years – without further power consumption.