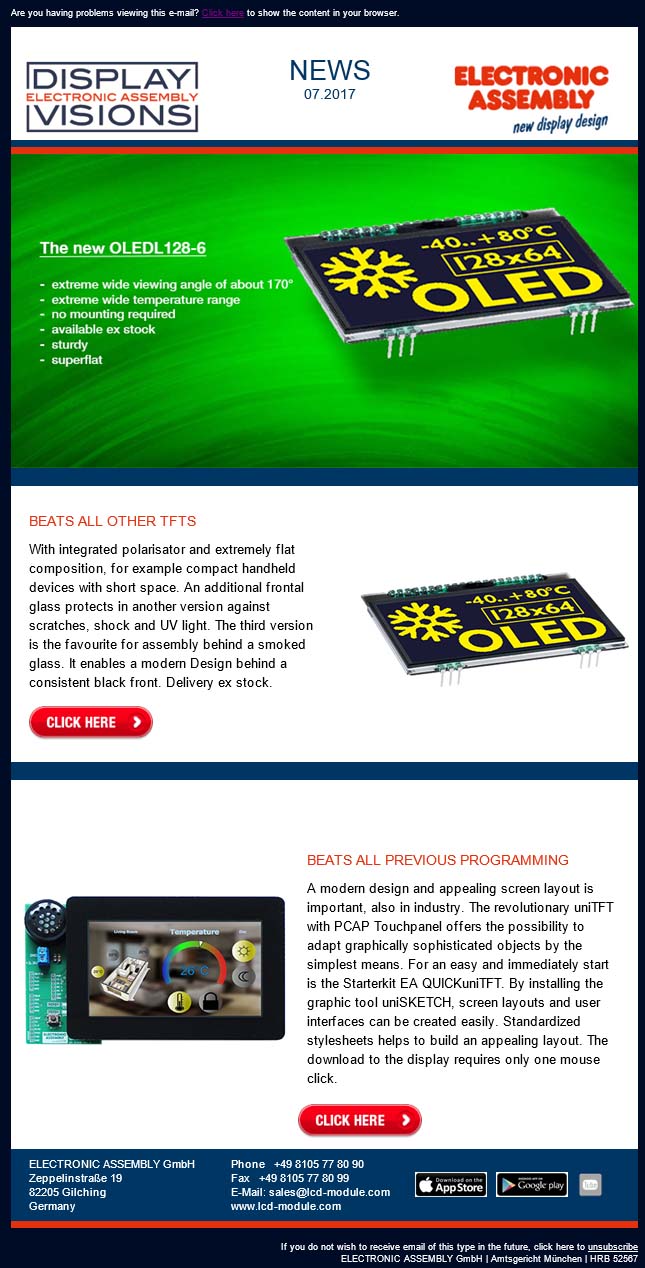 uniTFT - Beats all present programming
Experience our latest generation HMI display! Surely you ask yourself, what is new and unique about this display?
Our display works on the screen with objects. Each object is defined by an individual ID. In this way, it can be changed, moved or also switched transparently or invisibly at any time. This allows designs as they are useual in smartphones and tablets. At the same time, we supply the right graphics tool for Windows, which allows you to design your individual user interface easyly (included in the EA QUICKuniTFTxxx starting package).
The displays are preferably delivered with capacitive touch panel and can be integrated directly into the application. 3.3V and a free interface, e.g. USB or RS-232, SPI and I²C bus are enough. The built-in scripts language can also be used quite simply. Even an intelligent control system can be built, also fully stand-alone capable.
- EA uniTFT050-ATC: TFT display 5 "with objects
- EA uniSKETCH: Windows tool
- EA QUICKuniTFT050TC: Starter packet incl. 5 "display
Including layout software uniSKETCH for Windows
Incl. connection board for 3.3V with screw terminals
Incl. Matching USB cable for the Mini-USB plug on the display
Including a lot of examples and documentation
- also available as a 10.1 "TFT display
Here you do find more information for the new display EA uniTFT050, or
| | | | | |
| --- | --- | --- | --- | --- |
| | uniTFT - The Film | | | |
Order now your starter paket QUICKuniTFT050TC (5") or QUICKuniTFT101TC (10.1").
| | Direct Link to our Webshop |
| --- | --- |